more of matt mccourts self indulgent blah dee blah
1990-Wild dogs-road trips to seattle with road dog, greg mcdonald and dave swanson as the guides.sponsored by MUSICLORD an amp company in Kent wa.
1991-Eastside Stranglers-Mike Albertson Scott Spencer Kip Doran progressive allman brothers high powered blues band that played every wednsadaty at the moosehead in portland never rehearsing.. guest drummers included deen and paul dreyer.
1992 Meathook-Paul Dreyer on drums Kevin Sanders(poison idea) guitar john donnely matt guitar the blueprint for all post dr mastermind songs we played around portland aalot of smaaal clib gigs.
1992-MattisonAvenoo is born at a meathook gig when matt arrives in comb over, glasses, white shirt and tie and jacket- "to try something different" after the gig he walks across the street to a dream theatre show where he is mistaken for a band member because he is still carrying a 1976 Ibanez destroyer and heading for the Roseland theatre's stage .(he doesn't own a case).not breaking character he casually introduces himself and warms the crowd up for the headliner who is waitng in the wings by this time-"oh the fun you can have sober!"mattison spawned -the bloomstone brothers and the popular cable tv show- character"Mattison Avenoo
1993The Bloomstone Brothers utilizing mattison's songs from the old bloomstone sessions with brother Joe Bloomstone (seehttp://wwww2.netcom.com/~smccourt/) joined by kip doran john donnely and featuring Mongo from Johnny limbo and the lugnuts Portland's 20 year 50's 60's band,the bloomstones had hits with "I'VE GOT A HARD ON" "ALL i WANT IS A COOKIE"'I'M A DIRTY ROTTEN SCUMBAG, BUT YOU LOVE ME, (And when you find yourself alone,.. you'll be thinkin of me..")Matt begins video production and is a regular crew member for the infamous Jim Spagg talk show. later Creating and producing "living Room Conecert Hall" and "the Mattison Avenoo Show"
1993 Wild Dogs- using the demo containing "the Vulture" and "Rank and File"matt auditioned for Judas Priest on a referral from Deen .they sent the tapes back and a framable rejection letter. Produces first Mattison Avenoo show invents Pieree derierre,and the flying torpedo ballet
1994-Shock Treatment-not making the priest lineup meant working the clubs playing covers with Jeff Mark and Tony Macalpine vocalist Al Seahorn after a long 8 months packs it up and swears off rock-n-nroll for a career in video.that totally sucked... no heater i my cartraveling 150 miles sometimes each way to a gig for $250.00 per week we call it BOOT CAMP
1995-The Vultures-last ditch attempt at succeeding with a metal bandin the mid 90's "watchin the Game" was written during this period several lineups included the voodoo dolls on guitar and bass and a very talented merril hale on drums this band also included Paul Dreyer on dums as well as Pete Laufman from early Malice and John Donnely
1996-Skeletones a fun tv band that only appeared on cable tv in portland oregon on the infamous jim spagg show. the group was Kip doran. Pete Laufman and matt all in undetectable costumes. with that unique sports gear meets mad mad max at the wwf look
1997-Evil Genius originally started as a Kiss impersonation group called KISS only. no one wanted to be Paul so umlout was called in matt moved from the gene simmons position to guitar. donning whiteface they became Evil Genius risen with Joe fazzolari on drums. doing a dozen shows in the Portland area and getting lots of video footage that has aired on Living Room Concert Hall it was a short lived group but one of the most unique visually mccourt tying what was left of his since departed black hair in a top knot resembling a big shrunken head doll the group recorded a song for the gg allin tribute straight from hell cd on dirty bastard records.Matt worked on some national commercials as a grip and became Regional fave Johnny Limbo & the Lugnuts' road manager music is comin for mat later
1998-Wild Dogs - the idea of a comeback was Deen's,then he bailed and the dogz wailed recording with some of the best drummers from seattle tom moller to Eugene larry Davis and loren bates wild dogs was in the studio writing songs like Bulletproof and Meathead.The band was immortalized yet once again in the latest version of Kerrang magazines' History of Heavy Metal in hard and paperback. they were described as "poverty Metalers"because of the hand made logo and costumes.
1998Matt made his film debut on HBO in "Out of the Wilderness" as a peppy morning talk radio host- (imagine that.. ..)starring David Carradine,David Naughton (american werefolf in london), and Peter Jason, (the bartender in the cowboy bar in 48hours.)
1999-us metal :Wild Dogs- . mccourt sees the future and the return of his style of wailing and decides to start this here website with a little help from his imaginary friends* wild dogs- releases of old material and videos is making its way to europe.and elsewhere through loyal fans and old metal records' King Fowley. curt james visits and the guys a tv thing on doing dr mastermind and impromto jams live on air for 60 minutes in portland . 2 weks later michael brown and pete and matt do a live tv show as evil genius playing wild dogs dr mastermind songs after just 2 days of rehearsal the sound board melted and stunk up the studio we introduced our ne melted skull logo that night..
1999-EViL GENiUS PROMPTED BY THE RESPONSE for the reissues on old metal,digicity,and heavyrock labels mccourt formed the dream band with peter laufman and mykl brown. this is the band that will be touring come next spring. the songlist contains the best of all of his projects and a new one is on the way simply called evil genius. recently the group has performed on us metal's tv show and in concert with war pigs and monkey fur at a packed mt tabor theatre in portland oregon.
AUG 1999 :WILD DOGS- a trip to hollywood and metalblade records inspires McCourt to drop the Evil Genius moniker and continue as the new wild dogs. as support act for GREAT WHITE and DOKKEN on their west coast tour they prove themselves once again as a potent live act .according to Portland's OREGONIAN newspaper
OCT 1999 WILD DOGS return to recording associates birthplace of the original 1982 demos ands /t lp to record a new 5 song demo including hotwired, freak of nature,and king of the world guitarist michael brown is singled out as an amazing talent combining the fury of Dr mastermind and the songwriting of the original dogs . the demo is well recieved by the metal press and is available on cd as nucleareflector and offered as the first multimedia cd from the group containing video clips as well as music.
WILD DOGS 2000: ushering in the new year in concert with ANGER MANAGEMENT,ashtray, british steel (priest tribute) and kill em all (mettallica tribute) the band performs a killer set despite the fact that everyone in the group is suffering from the flu , debuting some of the 15 new songs the group has been workin on the previous 2 months "tired of towin the line" a power metal song about "the curse of sobriety"Mccourt gives KUFO 101 a copy of "watchin the game "( a sportaholic anthem)in hopes they will use it during the super bowl promotion. pre production of the new cd is in progress and in the meantime OLD METAL RECORDS is scheduled to release a new cd containing the 5 song demo as well as outakes from man's best friend, and sessions from 1993-1995 that include the original members. videos for 3 songs from the demo cd are in progress as well - "freak of nature( a horror spoof) fight ,AND A KILLER HIGLIGHTS OF THEIR LAST STRING OF SHOWS CUT TO "KING OF THE WORLD FROM THE NEW CD.
WILD DOGS march 2000 Opening for Dio on the recent Magica tour The ne w Dogs totally kicked ass. the Band is finding their niche and developing a "show" taht includes new amps that are actually set pieces that look lke riveted steel - a new
backdrop and some platforms. we shot a 6 cam video and i cut it to the song "fight for your right to fight" which we have been distributing across the country to TVproducers and mags and . the repsonse locally from that show was immense and the video has been playing every week since april in portland oregon.
a NEW cd containing mans
best friend demos, 6 songs recorded with jeff and deen and danny and 5 new songs recorded with new bandmates michael and pete in oct 1999 the cd is called better late than never "and will be released on old metal records. since the original lps wont be re issued by shrapnel, varney has suggested that we record our classic cuts from wild dogs and dr mastermind for a "re-makes cd" which will be available on full concept .com an mp3 site. in our weekly sessions we have written 27 new songs so far for our new fullength cd(s) true to the original vision of the band this evolution is the best band and most functional i have ever had the pleasure to be in -
MAR2000: we opened for Dio at the roseland had a 6 man camera crew running and gunning and got alot of great shots ,we also taped dio and ran that on cable poepoe loved it- getting public recognition finally for the tv show...7 years running.. great gig! new amp look and more theatrical we formatted a "show/concert " as opposed to a songlist ya know- The drama of it all....it was awesome we have fotos and video for the next year!- our new cd cover had to be designed by me.. t
may 2000 13 songs are now available at which has been getting some good action and givin me satisfaction- download, share and enjoy with your friends there are songs from each record and demo session and im putting up more of the first 2 lps and reign of terror until most all of it is availabale for FREE FREE FREE NOW.! it is very important and i have a personal interst in keeping this music alive thanx for your support. our new cd should also be available at amazon.com later on this season. the tv show is going strong featuring dio motorhead wild dogs, armored saint, who we shot last nite at portland's satyricon those guys are killer super tight great singer see ema when they come thru this month. motorhead - the annual religious trek that really cemented pete and my souls together is coming end of this month hangin out with lemmy changed my life even as an old as i am.gigs in jun at the vetian theatre and tryin to book a hotter than hell tour
JUNE 2000 JUN 8 wild dogs does its first stop in Albany or at the venetian theatre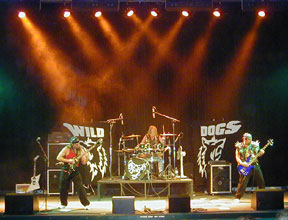 the better late than nver cds are on sale now.. check Buy it here from us metal or Bid on it at ebay