Kurt james,Dr Mastermind,mat mccourt, guitar,shred,anthrax,neil turbin,driver,black sheep,paul gilbert,yngwie,malmsteen,neo classical,marty, friedman, tommy aldridge,rudy sarzo, tony macalpine,uli roth,jaco pastorius, bass, jazz,fusion,al dimeola, john mcglaughlin, jeff beck, zappa, holdsworth,shrapnel
KURT JAMES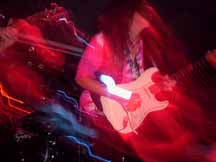 Ecclectic musician, spiritual melodist, innovative guitarist /bassist\

Working with Kurt james is a pure musical experience alive not pre planned, a vintage experience that is in sync with my nature and always an adventure that those who are easily uprooted or self consciuos lacking would not understand.Ive been playing with Kurt since 1986 when we did dr maste4rmind and whenever its geographically possible.
below is an excerpt from an interview, please please visit their site they have a excellent resource of immediate and obscure players dedicated to the stringed instrument. CLIKKEN SIE BITTE HIER fur die ESSENTIAL GUITARIST WEBSITE
EG: Not many people will know your background, so can you let us know how old were you when you got into guitar playing and who were your early inspirations?
Kurt James: I remember playing my tennis racket along with the radio when I was about 7 years old. My first real guitar was a $35 nylon string given to me by my step-mom, Pattie at the age of 10. I just learned some basic chords and rhythms.
But when I was 12 saw a Gibson S.G. copy at the local music store, that's when I decided to get serious about music and the guitar. I learned how to play "Purple Haze" by ear from hearing it on the radio."Taking Care of Business" was a big influence for me, l got the record "BTO-II" and the be-bop section at the end of "Welcome Home" really blew me away! So that's what got me into Jazz at such an early age. So my early influences were mainly Hendrix, Zeppelin, BTO and any jazz that I could find.
EG: The album that first made you famous was probably the Black Sheep "Trouble in the Streets". That album has so many great players on it, including Slash, Paul Gilbert, Mitch Perry, Randy Castillo and of course yourself. How did you get involved with that project?
Kurt James: Yeah, Paul Gilbert told me about the band, I was hanging out with Paul in Hollywood and he was just forming Racer-X, so l guess they needed a guitar player and l played some gigs with them and did some recording.
EG: According to Paul Gilbert he says: "Kurt James played guitar on half of the record and he actually sounds better than me. For some reason I had a hair-brained scheme of recording my amp "direct" with no microphone. The result was my guitar sounded very unnatural and buzzy. Like an angry bee caught inside a paper towel tube". Did having so many other great players around you make you play better?
Kurt James: Yes, It was definitely a great scene in L.A. back then, the level of the guitar playing was amazing, and being around so many great musicians made it a lot easier to keep your chops up!
EG: How did you get the Steeler gig when Yngwie quit?
Kurt James: A friend of mine, Joey Tafolla told me about the audition so I called Ron Keel and he told me the position was filled, this disappointed me. So insisted that he listen to me play over the phone. This impressed him enough to invite me down to the studio and it became a show down between me and the guy who just got the gig. That was on a Sunday and on the following Thursday I played my first gig with Steeler!
EG: Laughs...As your such a great player and you were working with Shrapnel records signed Steeler did Mike Varney ever offer you a solo deal?
Kurt James: No, the material I was interested in recording was too eclectic for the Shrapnel label.
EG: I think the album that really blew me away was the one you did with Matthew T McCourt, The self titled "Dr Mastermind" album. There just some great tracks on that album. I particularly like the solo sections from "The Villa" and the monster drumming of Deen Castronovo and your guitar on the track "I don't want to die". Were you happy with that release?
Kurt James: Sure...There was some cool stuff there. That was my introduction to that style of metal. I was able to blend my more fusion style with the songs that were already written by Matt McCourt.
EG: I know you went on to release a Dr Mastermind live album and DVD called "One Night Stand" recorded back in 1988. Do you recall that and did you enjoy playing live and what sort of set up do you have for a live gig?
Kurt James: Of course, I love playing live! I use a very classic set up, similar to Hendrix. I use vintage plexi Marshalls and a variety of Fender Stratocasters all with standard tremolo bars. I feel that the live performance is a very important part of my self expression and I really enjoy lighting my guitar on fire! ...That's one thing I haven't tried in the studio yet!
EG: Laughs..not sure that has quite the same effect....As mentioned earlier you have played with some great players. You have mentioned that you have played some session with current Megadeth guitar player Chris Poland. Chris is a really great fusion sounding player nowadays, did anything come of that partnership?
Kurt James: No, not yet. He has been a good friend of mine for many years, even before he was in Megadeath. We just jammed a few times together but I would really enjoy the chance to actually record with him sometime.
EG: You will also involved will the ill fated band "Project Driver", It certainly took along time for the first album to get released. You took over from Tony MacAlpine, how did that work out for you?
Kurt James: Actually we formed the band Driver with Rudy Sarzo and Tommy Aldridge, along with Jeff Scott Soto, before Tony MacAlpine was involved.
EG: I didn't know that. I just knew it took a long time for material to be released.
Kurt James: Yes, and most of the material that made it on to the record is different than what we were doing originally. It was cool playing with Rudy and Tommy, but unfortunately it didn't last.
EG: You seem to have spent some time in Japan with the Band "Rommel".
Who was in that band and did you get to release a CD with this band?
Kurt James: Rommel was a band that was into Dr. Mastermind. So they offered to back me up in Japan. We never recorded, but we had a lot of fun touring in Japan.
EG: talking of Japan, you also took part in the Monster guitar show in Japan. That show also featured so many great players like Vinnie Moore, Mitch Perry, Joey Taffola and Michael Angelo. What was that like and would you be interested in doing this sort of thing in the future a kind of heavy version of G3?
Kurt James: That was great! Lots of fun. I would always enjoy an opportunity to something like that again.
EG: Rumour has it that you quit guitar playing and moved to Spain to play bass in the jazz style of Jaco Pastorius. Is that true?
Kurt James: Well, actually, I have always played bass for my own recordings and various gigs, but in 1997 I decided to dedicate myself to playing fretless jazz bass and doing a tribute to Jaco Pastorius, I found that playing jazz music on the bass allowed to me to play melodic solos with great musicians on a higher level than when I was playing rock oriented music.
EG: So it's true, that's really cool!
Kurt James: Thanks, When I moved to Spain it was like starting anew. I introduced myself to jazz musicians as a bass player, and played and recorded in the European jazz scene, it was very refreshing, but after a few years I felt the urge to start playing guitar again, and now with my jazz experience I feel that I am playing better than ever.
EG: How has your guitar playing evolved from the early neo-classical days and who influences you now?
Kurt James: I'd like to use this opportunity to clarify what I feel might be a misunderstanding, my early influences and style were jazz rock fusion, not neo-classical, it wasn't until I joined Steeler that I incorporated a neo-classical style into my playing.
EG: So you were a fusion player first then?
Kurt James: Yes, so actually my style evolved from Al DiMiola, John McLaughin, and Allan Holdsworth. These days I am listening to a lot of early Scorpions, Jeff Beck, and early Rock 'n Roll, Rockabilly, John Coltrane, Micheal Schenker, Antonio Carlos Jobim and early Guess Who.
EG: A lot of guys nowadays seem to focus on speed playing, but one of the things I liked about your playing was note control and your amazing wide vibrato. What tips would you recommend budding guitarist focus on to improve their playing?
Kurt James: Vibrato, intonation, wider vibrato, better intonation, super wide vibrato and incredible intonation.
EG: Laughs, So I guess that work on your vibrato and intonation then!
EG: On one of you more recent projects you have worked with Neil Turbin of Anthrax fame and Mitch Perry, with super fusion guitarist Allan Holdsworth producing an album at Paramount Studios in Hollywood. I haven't seen the album so I guess it remains unreleased?
Kurt James: Yes, you got it right, except for one thing. Mitch Perry was never involved in that project. We've got ten songs in the can that just need mixing and a few overdubs to be completed. Working with Allan Holdsworth was the coolest!
EG: Talking about super fusion players, how did you feel about the loss of Shawn Lane?
Kurt James: Yes, I was shocked of course! I didn't even know he was feeling bad! One of the best players I have ever heard!
EG: Yes "Powers of Ten" is one of the best albums. Can you recommend any other albums that you think players should listen to help them expand their playing?
Kurt James: WOW! There are so many obscure and underrated recordings that it is difficult to choose just a few. However, I feel that Raymond Gomez's playing on the recording by Narada Michael Walden "In the Garden of Love Light" is something that you just gotta hear!
EG: I've not heard that so I'll check it out, thanks for the tip!
EG: I know you have also worked with Neil Turbin and the "Death Riders" project with Beau Simpson releasing "ThreatCon Delta" and a soon to be released and appropriately titled "Diary Of A Metal Thrashing Madman". Can you give us some more background to those releases?
Kurt James: Yes, ThreatCon Delta was recorded a couple of years ago, after that, Neil met Beau. Now we are working on a new record that might be called "Diary of a Metal Thrashing Madman".
EG: You've just played some recent live gigs with Matthew T McCourt and Dr Mastermind. Will you be playing guitar on the upcoming album?
Kurt James: Probably, but since he lives in Portland and I live in L.A. is a little tough to get together. But I always have fun playing with Matt.
EG: Do you have any plans for a solo record at any point?
Kurt James: Well, I have so much material to be recorded that I feel like I have got about five good albums in me, but it seems that getting professional musicians and a recording budget are the only things holding me back. So, I hope I can get it together some time soon. If you got any ideas, let me know!
EG: I hope you can get some interest in your playing and If it was up to me I would give you a deal! Kurt, It has been really great talking with you. Thanks for taking the time out for this interview. Best of luck on your future projects.