motorhead,lemmy,kilmister,fast.eddie,philthy,animal,taylor,80's,metal,wilddogs,germany,heaqdbangers,wacken,kit,hoa,woa,cd,record,lp,buy,collector,anthrax,metallica,wilddogs,drmastermind,megadeth,kingdiam
ond,mercyful,slayer,judaspriest,motorhead,acdc,scorpions,saxon,castronovo,mccourt,varney,shrapnel,roadrunner,reignofterror,vanhalen,kiss,metal,thraqsh,glam,power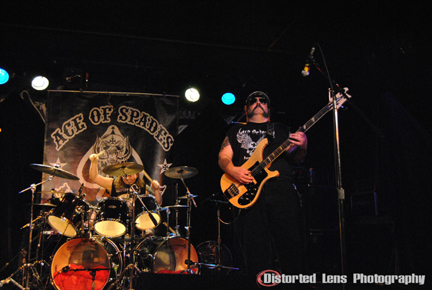 I formed Ace of Spades  2007 after not playing live since the CMF 5 in Chicago 2005
I thought it would be fun to play my favorite songs f my favorite band i figured id find a few 
like minded punk rockers and we;d have a go at it and play a couple dates  not like the hardcore
tribute bands that have polluted the local scene in pdx.
I didnt have high hopes in finding anyone but  Tm Hastay called the same day i put the ad in
and he knew a guitarist Jason Moser ( splintered Throne)  we got together and said ok let's do it
we  did a few shows at some decent places mt tabor theatre  Outlaws( Bossanova) 
and in a few months end  of summer i get a message from a tv host Neudi( manilla road drummer) 
and get offered a spot on the Headbangers Open Air Fest in  Germany for the following August.
shifting gears becuase i didnt want to go  to the place id been tryin to get to for a decade or more
i put the tribute band down  for a few yearsand got my faithful current lineup together and we giggged 
and did the germany trip i made a second trip to hoa the next year solo and did a couple shows with
a couple guys Korea black singer for stone cold black put me together with on the spot.
( but it was after  a wild dogs original guys reunion i started it up againto get that awful taste out of my head !
so i restarted Ace in 2010 ,this time with my good friends Vido Sinn on gtr and Dave Hathaway on drums 
 we giggednearly every week and were fucking amazing  we recorded a full tribute cd which is coming out
this year i had planned for it a couple years ago but  Lemmy died that year and i thought
 I better wait on this some gigs we combined wild dogs tunes and motorhead and we also killed em 
with the gem by punk icons FEAR  'I love livin in the city" 
and made a good bunch of new friends the younger real metal scene in portland that is how i met
Nick Superchi who is playing keyboards with Wild Dogs
it was a helluva lot of fun for a few years doin these gigs   we were great !  








PICS BY ROBERT JAZAKNOWSKI (RJAZZIII)   

metal,rock,shenker,ufo,dio,dokken,greatwhite,